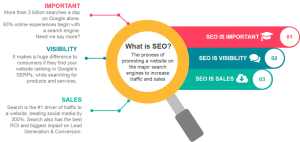 SEO(Search Engine Optimization) is the marketing discipline aimed at growing visibility in organic or natural search results. It is the best practice of improving both quantity and quality of traffic at your website via organic search engine results.
SEO encompasses both the technical and the creative elements required to improve the ranking, increase awareness, and drive traffic to our website. However, there are many aspects to SEO starting from the text on the web pages of your site to the methods how other sites link to you on the web.
SEO ensures about your website structure in a way that search engine like Google, Bing, Yahoo can properly understand.