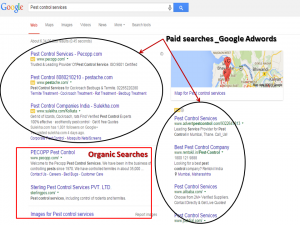 Organic Result
Organic Search results are called Natural Search Results. These are the Web page listings that have a strong and close match with the user's search query based on relevance. Getting ranking high in the organic search results is what SEO is all about.
Paid Result
Paid Search results have other meaning known as PPC. And are basically an advertisement, advertiser pay to obtain their ads displayed when users do a search containing specific keywords. Paid search accounts help companies to appear at the top of search results by paying for it.
These advertisements are typically displayed either at the top or at the right portion of organic and natural search engine results. The number of clicks or views you receive for your advertisements determine the cost you pay for it. Both bidding process of advertisements and the quality score of keywords determines the exact placement of the advertising.