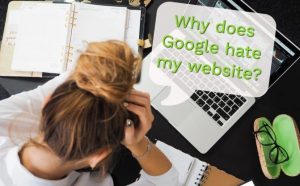 The topmost search engine Google updates its search engine algorithms every time every day. To get the page rank of your choice, you must know the working of Google.
Here are some points:
When you launch a site, Google sends out robots to crawl it. These "spiders" gather critical data and carry it back to Google.
Then it comes the chance of indexing the data from the spiders to understand your site well by Google.
When a user searches a keyword looking for a service, or product, Google's algorithms sort through all indexed sites to return most relevant to the user.
Following are the main reasons why google hates your website:-
Google Doesn't Trust You!
Trust is the X-Factor with Google. If you wish to be liked by Google, then you should begin interfacing connections with different sites with an algorithm. However, it perceives as a source of authority. This is known as "Domain Authority" in short it stands for "DA."
Your SEO Approach Isn't Up To Date
Have you checked the most recent Google search engine news? If you were moving swimmingly along with earlier and now each of the sudden you see a drop in numbers. Then, there is a chance of not being up to date. Meanwhile, there's something new you fail to take note. You may need to do your exploration (Research) on the most recent digital marketing trends for Google search engine optimization.
Your Content And Anchor Text Is Over Optimized
Google Penguin update crushed the effect of over-optimized anchor text. Pigeon enhanced local search results and the impact of local AdWords. But, Google too has constantly disliked the keyword stuffing. While feeding Google with content to raise your web search, go light on keyword and try to include expressions or search words.
Google is Evil
Google set you up for disappointment before you even began. A couple of people utilizing the Chrome browser blocked your site and this made Google think about you. However, If your web pages "Bounce Rate" in Google Analytics is high or the time spent on your site is low, then, Google is not as much as awed with your performance.